Thu 5 Mar. 2020
Hello...are you receiving us?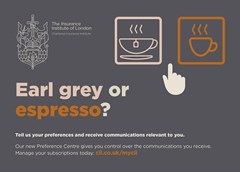 Everyone likes a choice so that's why the CII has launched the Member Preference Centre, where you can control the communications you receive from us.
The Insurance Institute of London runs a large programme of events for members so if you're not receiving emails from us, you will be missing out on member benefits such as:
CPD lectures
Social and networking events
Educational visits
Manage your preferences
Get the most out of your membership subscription by going to www.cii.co.uk and clicking on the My CII tab to manage your CII and local institute communications.