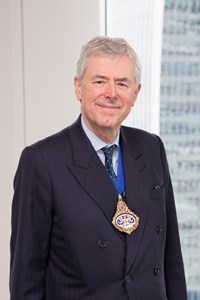 Charles Berry FCII
President
Welcome to the Insurance Institute of London. I am honoured to serve as your President this year.
Your Institute has a substantial programme in place to support the CII's mission of raising the professional standards of our membership and developing trust in insurance and financial services. Our events include lectures and podcasts, support for those sitting professional exams, educational visits and research studies, as well as a programme of social and networking events. I encourage all members to take full advantage of these activities.
As we enter a new decade, one in which technology and AI will bring accelerated change to our sector, our professional roles intermediating between clients on the one hand and capital providers on the other will become less about distribution, and more about expertise and trusted advice. This will place the mission of the CII and the Institute – education and building trust – even more firmly centre stage.
On education, while encouraging and supporting those taking the CII's exams through our mentoring and revision programmes, formal qualification is today simply the prelude to lifetime learning. The IIL's world-class lectures and podcasts broaden and complement members' in-house CPD programmes; our research studies keep you up to date with evolving sectors of the market; our educational visits are interesting and fun; and we engage with schools and universities to spread the word about the fulfilling career opportunities that our sector continues to provide.
However, to build trust in financial services, professional knowledge alone is not enough: as intermediaries we need to be clear who we act for: client and policyholder; or insurer and capital provider. In the past, there has been ambiguity in the distribution chain as to where an intermediary's true loyalty may lie. As our roles evolve more to that of trusted advisor, we will increasingly be asked who we are acting for: client or capital provider. Intermediaries who are ambiguous on this issue will place themselves at the front of the queue for disintermediation. Hence my theme for the year, "Who do you act for?". A clear answer from market professionals to this question is central to building trust in our sector.
It's not all work. We have a full programme of networking and social events, with our Young Members Committee's sell out Winter Balls and Summer Parties being a particular highlight. Join in!
The IIL is here to support the careers of its growing membership, which has risen by 2.6% in the year to 31st December 2019 to a record level of 25,697. However, the IIL itself would not survive but for the hard work and dedication of those many members who volunteer their time to serve on our committees, deliver our lectures and other programmes and assist Allison Potts and her hard working and dedicated staff to organise our range of events. We are grateful to you all for your continued support.
If you have questions or comments about any of the Institute's activities, please do not hesitate to contact me. I look forward to meeting you and working with you in the year ahead.