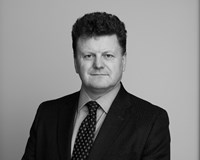 Welcome to the Insurance Institute of London.
I feel humbled to have been appointed President for the coming year, and would like to thank the Vice Presidents and Council for electing me. I would also like to thank outgoing President Anthony Baldwin, and congratulate him on a very successful year during highly challenging and unusual circumstances.
The IIL has deftly transitioned to an almost entirely virtual learning environment over the last 12 months. I look forward to working with Deputy President Chris Lay and the wider Institute to embed this new, more accessible, and increasingly popular programme of digital events throughout the year ahead.
The CII and its Institutes play a unique role in unifying and cultivating our industry, and as the largest of these Institutes, the IIL occupies a position of responsibility during what I believe to be a defining moment for the insurance sector.
We have heard repeatedly over the last 18 months that insurance was not designed to cover pandemics, or any other systemic risk for that matter. This is not cause for vindication, but alarm. Pandemics, along with certain risks associated with rapid technological, climate, and demographic change, are examples of complex, systemic perils which the traditional insurance model must largely exclude.
But these are the perils against which society and businesses now require protection. The pandemic has increased, not decreased, the expectations our customers now have of our industry, and the standards to which they will hold us. They are demanding not just financial protection, but a deep, specialised understanding of the specific risks they face, and an enabling environment of risk management to mitigate these acute threats.
This inflexion point presents great challenges, but also a great opportunity to secure our proposition for a generation to come. As such, my theme for this year is putting a Premium on Change. Too often, when faced with new and complex risks, our instinct has been to exclude them from our policies. My focus will be on how we insure new and difficult risks. It will be on how we embrace new technologies and partnerships to foster innovation. But most importantly of all, it will be on continuing to focus on attracting and encouraging new talent and greater diversity – in our thinking and our people – without which we cannot hope to thrive in an unfamiliar and uncertain world.
The insurance industry is full of highly skilled, highly motivated individuals; few understand risk better than we do, and our contribution to the British economy, and society at large, is vast. But embracing diversity, renewing our commitment to R&D, and bolder partnerships with other industries and the public sector will unlock the collective investment we need to secure our future.
By putting a Premium on Change, the IIL can guide and be guided by the whole of the London insurance and financial planning community as we seek to emerge from the difficulty of the last 18 months, and together build a sustainable, inclusive, and resilient future.