Fri 25 May 2018
Save 20% with Insurance Day and Perks!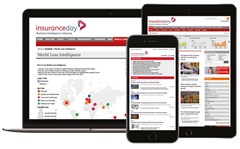 Insurance Day provides you with the latest news, data and insight into the speciality insurance and reinsurance markets.
With daily stories written by an award winning editorial team, you receive verified information to help you make business critical decisions and stay up to date with developing news.
Through your CII membership, all new subscribers are entitled to receive an introductory 20% discount. The standard online only rate is £2,550, but you'll get it for £2,040.
For more information, visit the Perks page on the CII site.
To take advantage of this offer, or to enquire about a group rate, please email Rob Comrie or call 020 7017 4740. Simply quote the following code to get your 20% discount: IDMICII18.
Further information on the Perks scheme can be found here: www.cii.co.uk/perks