Tue 6 Mar. 2018
Insurance Charities Awareness Week 2018 - what you need to know!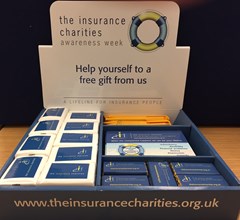 The Insurance Charities are inviting all insurance and insurance-related employers across the UK and Ireland to take part.
The aim is to increase awareness of The Insurance Charities and ensure no one eligible for help misses out - they don't just help the person with insurance work experience, but the whole family.
Getting involved in easy, just sign up to receive a complimentary display box for your office(s), and this will be sent out in June to display during Awareness Week.
To sign up, email marketing@theinsurancecharities.org.uk with your name, company name, number of employees in your company and contact details. Employers of any size can take part.
Items in the display box this year include chocolate, magnetic bookmarks and handy reflector torches.
Alongside the display boxes, a cricket six-a-side event is taking place on the final day of Awareness Week, 29 June at the iconic Honourable Artillery Company (the HAC) in the heart of the City of London. If you would like to take part, get in touch with The Insurance Charities below.