Mon 8 Nov. 2021
Qualification Mentoring Scheme - 2022 intake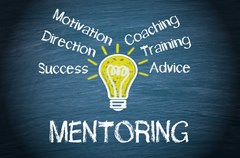 Studying towards your Advanced Diploma in Insurance (ACII) or Advanced Diploma in Financial Planning (APFS) can be a lonely and confusing experience. It can be difficult juggling work and personal commitments. Some find the array of subjects confusing when it comes to deciding the order in which to take them. Others find the step up from Certificate to Diploma level bigger than they were expecting, and members can also struggle due to lack of employer support.
Perhaps you have recently qualified and reached a stage in your career when you would like to put something back into your professional community. Volunteering as a Buddy Mentor is a real, practical way of doing so.
The IIL Qualification Mentoring Scheme takes a peer-led, team-based approach to motivate and support members in achieving the ACII or APFS qualification – over the course of three years, from any starting point, to reach their full potential.
Further details can be found in the QMS brochure along with application forms for mentors and mentees. Please state your area of business on your application form so you can be allocated to either a general insurance or financial planning mentoring team. Participants must be members of the Insurance Institute of London and committed for a three-year period.
The deadline for Mentor and Mentee applications has been extended to Monday 31 January and the launch event will take place on Monday 21 February.
Please contact Gemma Warren (07436 263847) with any queries.