Business Interruption Policy Wordings - Challenges Highlighted by Claims Experience (October 2019)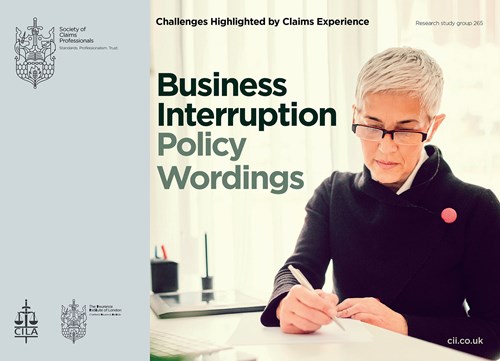 This easy to read book is the result of joint collaboration between the Insurance Institute of London (IIL) and the Chartered Institute of Loss Adjusters (CILA). Its aim is to deal with the most commonly encountered difficulties in business interruption (BI) policy wordings, examine the consequences and offer potential solutions.
The book arose out of a mandate given to CILA's Business Interruption Special Interest Group to identify problems areas within the existing BI wording and make recommendations on how to fix them. This resulted in a report being issued in May 2010.
This initial report was not exhaustive and more complex issues needed deeper study. A study group, jointly chaired by Harry Roberts and Damian Glynn, was formed with the aim of addressing recurring problem topics on policy wordings identified by the BI community and CILA.
This publication does not propose prescriptive new wordings but highlights those areas where clarification may help customers, insurers and adjusters. It does not claim to be exhaustive but examines the most commonly encountered problems areas with the objective of avoiding similar claims giving rise to different outcomes depending on a particular interpretation of a policy wording.
The publication also attempts to identify the issues that would benefit from some level of change in as concise a manner as possible. This has been balanced with the need for a degree of discussion so that the aim of clarity is clearly appreciated and justified.
This publication includes coverage of the following:
The perceived definition of Gross Profit and how this can differ from the insurance policy definition
The scope of cover for Rent and misunderstandings around Rent Receivable and Rent Payable
The issues that arise when there is Wide Area Damage and the impact of Orient Express Hotels v Assicurazioni Generali SpA (2010) case
Confusion around Suppliers'/Customers' Extensions, using Buncefield as an example
How Time Deductibles should be applied
The intention of Underwriters in relation to Depreciation Savings

Please be advised:
The Insurance Institute of London and those individuals who give lectures and/or produce papers under its auspices are mindful of the need for such material to be complete and accurate as the occasion requires and permits. However, such material is not represented to be a full and authoritative statement of the law or practice relating to any of the issues covered and no liability for any error or omission or for any opinion expressed will be accepted by the speaker or writer, their employer or the Institute.
If you are a contributing author to this publication, to obtain a more advantageous discount, please contact Susan Phillip - susan.phillip@cii.co.uk
Postage & packing fee - incremental charges apply
| | 1 to 5 reports | 6 to 10 reports | 11 to 15 reports |
| --- | --- | --- | --- |
| United Kingdom | £ 7.50 | £ 15.00 | £ 22.50 |
| Europe | £ 15.50 | £ 31.00 | £ 62.00 |
| Outside Europe | £ 25.00 | £ 50.00 | £ 100.00 |