Tue 3 Oct. 2023
ISC and Mental Health Awareness Day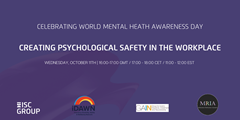 The traditional image of stoic leaders is being replaced by a leadership that values care, empathy and inclusivity. This includes companies actively taking care of their teams well-being, enabling psychological safety among their peers and cultivating a working culture free from fear and ego.
Therefore, in honour of World Mental Health Awareness Day, we're excited to bring you a global collaboration on 'Creating psychological safety in the workplace'. As advocates for talking more freely about mental health, we are excited to be partnering with iDAWN and other industry initiatives from the UK and NA markets.
Psychological safety refers to the ability to speak up without fear, reprimand, or humiliation at work, and is critical to helping teams build better relationships. When psychological safety in the workplace is present, people feel comfortable bringing their full, authentic selves to work and are okay with "laying themselves on the line" in front of others, which leads to happier, healthier and better organisations.
A panel from across the insurance market will be sharing experiences from their management perspective on how to create a safe and healthy environment for employees to open up and talk about mental health.
Join us virtually on Wednesday 11th October from 16:00pm GMT / 17:00pm CET / 11:00am EST
More about the panel:
Samantha Westaway, Client Relationship Management Director at Mactavish; Steering Committee Member at iDAWN

Desmond Marryshow, P&C Commercial Underwriter at Chubb; Junior Board Member at MRIA; Board member & Director of DE&I at ORIMS

Vina Theodorakopoulou (Dr), Supervisory Board Member & Individual Member Lead at GAIN

Sally Bramall, Head of Market Relations Governance at Willis Towers Watson and a Non-Exec Director of iDAWN
Format of the session:
Welcoming

Panellists introduction on the topic

Panel discussion

Open Q&A

Takeaways
We look forward to seeing you there!
ISC Team