Tue 22 Mar. 2022
Perks – the CIIs affinity benefits programme for members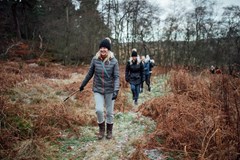 Balancing everyday life together with the requirements of work and home can create pressures for all of us. The CII have partnered with Health Assured, the UK and Ireland's largest award-winning employee assistance programme (EAP) provider, to bring you a comprehensive and trusted wellbeing service.
Gain free access to the industry-leading My Healthy Advantage smartphone app – a library of wellbeing resources including videos, guides, and webinars on a range of topics to support your mental, physical and financial wellbeing. This app is available on both iOS and Android.
This service is available to all members of CII including student and retired members*.
To download the My Healthy Advantage app, simply open the camera on your phone and point it at the QR code below
Once you have downloaded My Healthy Advantage, enter unique code MHA078461 to gain access.
Additionally, members can access resources from Health Assured's Online Wellbeing Portal www.healthassuredeap.co.uk – by using the following login details:
Username: parliamenthill
Password: EAP
Through Health Assured, you will have access to wellbeing resources, webinars and guides on a range of topics, including:
Life Support > Family and relationships, keeping children safe and caring for a dependent**
Nutrition
Work Life > Mental health at work, time management and working with visual display units.
Physical Health > Quitting smoking, sleep apnoea and staying hydrated.
Emotional Health > Stress, depression, anxiety and panic attacks.
4-week self-help programmes
The guides cover everything from improving your sleep and diet to kicking habits like smoking and caffeine consumption. These are available over the phone, online or through face to face counselling.
Free 24/7, 365 confidential helpline:
Through Health Assured, all members of CII can also access a free 24/7, 365 confidential helpline. The helpline puts you in touch with qualified counsellors and advisors who will be able to support you with; counselling support, legal guidance, bereavement support, medical information and more. We're here to help, whenever you need it.