Mon 27 Sep. 2021
New IIL President for 2021-22 announced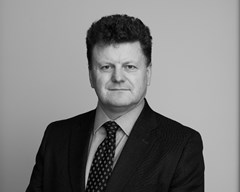 Julian succeeds Anthony Baldwin, CEO, AIG UK, and is joined by new Deputy President Christopher Lay ACII, CEO, Marsh UK & Ireland, UK Country Corporate Officer, Marsh McLennan.
Commenting on his appointment, Julian said "I feel humbled to have been appointed President of the IIL for the coming year. Under Anthony's stewardship, the IIL has deftly transitioned to an almost entirely virtual learning environment over the last 12 months. I look forward to working with Chris and the wider Institute to embed this new, more accessible, and increasingly popular programme of digital events throughout the year ahead.
The CII and its Institutes play a unique role in unifying and cultivating our industry, and as the largest of these Institutes, the IIL occupies a position of responsibility during what I believe to be a defining moment for the insurance sector. My theme for this year is putting a Premium on Change; finding new ways to insure the most acute risks facing society today by embracing diversity, renewing our commitment to R&D, and forging bolder partnerships with other industries and the public sector to unlock the collective investment we need to secure our industry's future."