Run-off Management and Commutations in practice *SPECIAL OFFER RATE* (December 2006)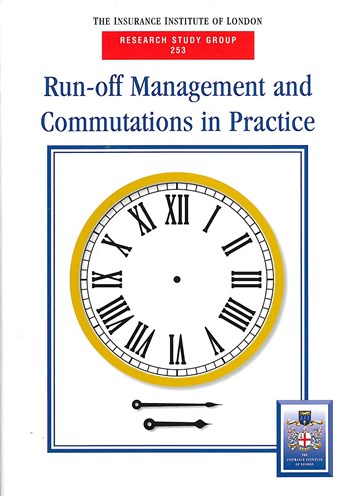 One of the major challenges affecting insurers and reinsurers in markets world-wide is how best to deal with businesses in run-off, or the management of discontinued underwriting portfolios within live organisations.
This publication deals with the practical drivers for the decision to go into run-off and the commercial and legal implications of that decision for all interested parties. It looks at both the separate and overlapping issues that arise in three distinct scenarios - the run-off of a portfolio within a live organisation, the run-off of an entire operation and an insolvent run-off. It also considers the particular issues that arise out of "pooling" arrangements, the problems and practical issues surrounding inspection of records in the run-off context, the regulatory implications of a decision to go into run-off, the possible "exit" strategies that a run-off manager might adopt and the US perspective on the legal implications of a run-off.
This publication is designed to assist, among others, those responsible for managing run-off to understand better the dynamics of the environment under which the business of run-off is conducted. Its contributors include market practitioners, accountants, lawyers and other specialist service providers who all have an interest in run-off practice and it is hoped that the broader audience for this publication will cover the same range of interest groups.
Please be advised:
The Insurance Institute of London and those individuals who give lectures and/or produce papers under its auspices are mindful of the need for such material to be as complete and accurate as the occasion requires and permits. However, such material is not represented to be a full and authoritative statement of the law or practice relating to any of the issues covered and no liability for any error or omission or for any opinion expressed will be accepted by the speaker or writer, their employer or the Institute.
If you are a contributing author to this publication, to obtain a more advantageous discount, please contact Susan Phillip - susan.phillip@cii.co.uk
Postage & packing fee - incremental charges apply
| | 1 to 5 reports | 6 to 10 reports | 11 to 15 reports |
| --- | --- | --- | --- |
| United Kingdom | £ 7.50 | £ 15.00 | £ 22.50 |
| Europe | £ 15.50 | £ 31.00 | £ 62.00 |
| Outside Europe | £ 25.00 | £ 50.00 | £ 100.00 |