Insurance of Revenue for Projects under Construction (September 2003)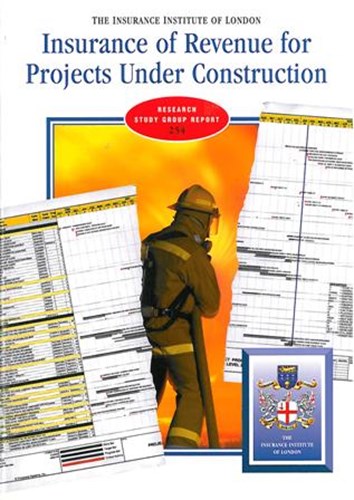 Commonly referred to as Delay in Start-up insurance (DSU) or Advance Loss of Revenue insurance (ALOP), the insurance of revenue for projects under construction has gained significant importance over the last decade or so. This is partly due to the increasing dependence on private sector finance. Protecting the revenue stream with insurance is increasingly regarded as of equal importance, if not of greater importance, than protecting the assets themselves.
In this new study, now available from the Institute, this complex subject is made accessible in a way that will be helpful to the new student but also of great value to the experienced practitioner.
The book deals with all aspects of the subject form underwriting to claims. It explains how revenue arises on project as diverse as power stations and hospitals, roads and bridges, hospitals and oil and gas producing facilities. The basic principles of insuring revenue are explained including calculation of gross profit, evaluating variable charges and fixed charges and the connection with the underlying material damage cover.
The difficulty of distinguishing insured delays from uninsured delay is outlined and the way the deductible is applied and the indemnity period calculated explained. The policy wording is illustrated and explained and actual claims examples are included. Marine cargo insurance and related delay insurance is fully explained.
This book, written by a team experienced in the handling this class of insurance in the London and international markets, is likely to become the standard source of guidance in the management of this form of insurance world wide.
Please be advised:
The Insurance Institute of London and those individuals who give lectures and/or produce papers under its auspices are mindful of the need for such material to be as complete and accurate as the occasion requires and permits. However, such material is not represented to be a full and authoritative statement of the law or practice relating to any of the issues covered and no liability for any error or omission or for any opinion expressed will be accepted by the speaker or writer, their employer or the Institute.
If you are a contributing author to this publication, to obtain a more advantageous discount, please contact Susan Phillip - susan.phillip@cii.co.uk
Postage & packing fee - incremental charges apply
| | 1 to 5 reports | 6 to 10 reports | 11 to 15 reports |
| --- | --- | --- | --- |
| United Kingdom | £ 7.50 | £ 15.00 | £ 22.50 |
| Europe | £ 15.50 | £ 31.00 | £ 62.00 |
| Outside Europe | £ 25.00 | £ 50.00 | £ 100.00 |