Insurance against inherent defects in buildings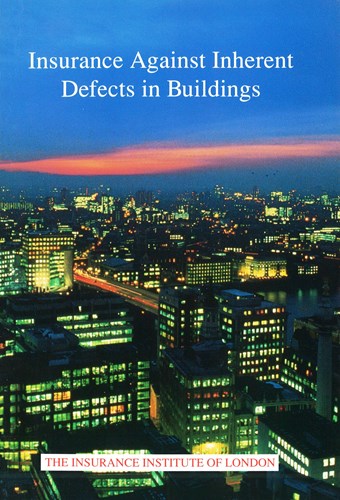 This 134 page book considers the many factors which influence insurance against inherent defects in buildings.
There is always a risk of an inherent defect manifesting in a building and resulting in damage to that building. This book give a common view of the UK approach to insurance against inherent defects in buildings at the time of publication.
The book covers:
How the risk arises - a technical appraisal
The influence of the law
Interface with other insurances
Handling procedures
Underwriting the risks
The cover analysed
Technical inspection service
Recovery rights
Claims
Positions in other European community countries
The perceptions, merits and advantages
Please be advised:
The Insurance Institute of London and those individuals who give lectures and/or produce papers under its auspices are mindful of the need for such material to be as complete and accurate as the occasion requires and permits. However, such material is not represented to be a full and authoritative statement of the law or practice relating to any of the issues covered and no liability for any error or omission or for any opinion expressed will be accepted by the speaker or writer, their employer or the Institute.
If you are a contributing author to this publication, to obtain a more advantageous discount, please contact Susan Phillip - susan.phillip@cii.co.uk
Postage & packing fee - incremental charges apply
| | 1 to 5 reports | 6 to 10 reports | 11 to 15 reports |
| --- | --- | --- | --- |
| United Kingdom | £ 7.50 | £ 15.00 | £ 22.50 |
| Europe | £ 15.50 | £ 31.00 | £ 62.00 |
| Outside Europe | £ 25.00 | £ 50.00 | £ 100.00 |