Developments in Excess of Loss Reinsurance (May 2000)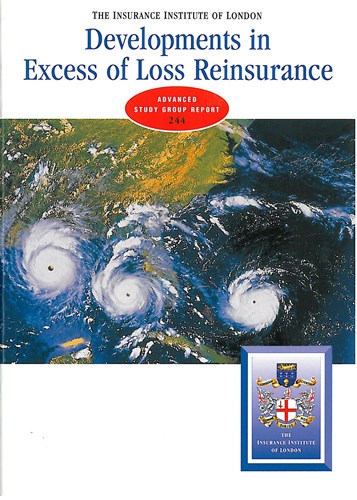 A decade has passed since the disasters of Piper Alpha, Exxon Valdez, the California Earthquake, Hurricane Hugo, Philips Petroleum and the January 1990 storms tested much of the London Reinsurance market to its limits. Since then a new market has emerged, with a continuing trend away from pro rata to excess of loss reinsurance and an increasing interest in alternative risk transfer products. The following themes can be identified:
The diversification of the subscription market has been replaced by globalisation and a consequent consolidation among insurers, reinsurers and brokers alike bringing with it rapidly developing technology, tighter controls of costs and resources and an increasing emphasis on quality. Some have even started to deal direct.
The financial and insurance markets are converging. The reinsurance and management of historic risk has become increasingly profitable and companies already in run-off have started to make healthy returns. Reinsurance has ceased being an "off the peg" ready to wear product with strictly limited options and has instead developed into an infinite range of "one-off" made to measure products for ever more sophisticated and demanding clients.
The report reviews the development of excess of loss methods of reinsurance to date, assesses the revolution in its practice and considers the major issues, exit strategies and convergence of the markets and finally it anticipates future trends.
It is a thorough and comprehensive study from leading practitioners in the market and will provide a key work of reference on the subject of Excess of Loss Reinsurance.
Please be advised:
The Insurance Institute of London and those individuals who give lectures and/or produce papers under its auspices are mindful of the need for such material to be as complete and accurate as the occasion requires and permits. However, such material is not represented to be a full and authoritative statement of the law or practice relating to any of the issues covered and no liability for any error or omission or for any opinion expressed will be accepted by the speaker or writer, their employer or the Institute.
If you are a contributing author to this publication, to obtain a more advantageous discount, please contact Susan Phillip - susan.phillip@cii.co.uk
Postage & packing fee - incremental charges apply
| | 1 to 5 reports | 6 to 10 reports | 11 to 15 reports |
| --- | --- | --- | --- |
| United Kingdom | £ 7.50 | £ 15.00 | £ 22.50 |
| Europe | £ 15.50 | £ 31.00 | £ 62.00 |
| Outside Europe | £ 25.00 | £ 50.00 | £ 100.00 |