Business Continuity *SPECIAL OFFER RATE* (December 2007)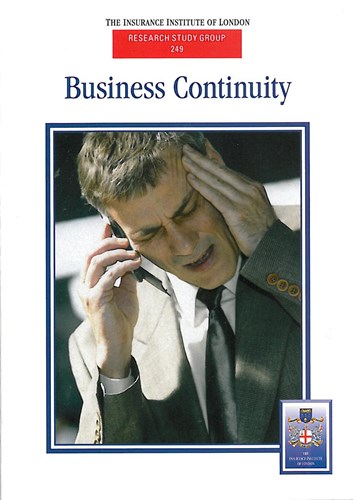 Over the last 10 years, Business Continuity has become one of the most important risk management techniques employed in business. With the ever-increasing complexities in supply chains, the need to keep businesses running no matter what, Business Continuity Management (BCM) is essential. Also, with business interruption costs dominating insurance claims where major physical damage has occurred, insurers are insisting more and more that their insured clients have properly tested business continuity strategies.
In the last 12 months, British Standards have published the UK standard for business continuity (BS25999). This provides a comprehensive approach for organisations of all complexities. However, the vast majority of British businesses are small to medium enterprises (SMEs), for whom considerable interpretation of BS25999 is necessary, to successfully address their leaner organisational structures. Risk management publications and standards often ignore the SME sector; therefore this IIL study report has focused specifically on the sector.
The Study has researched how insurers treat business continuity in their evaluation of insurance proposals from SMEs. The Study also looks at what would make a difference in this process, as well as providing a simple approach to developing BCM for the SME. The approach is fully consistent with BS25999 but phrased in appropriate language and organisational requirements to suit SMEs. Furthermore, it includes an assessment methodology for both self and third party assessment.
The Study Group members come from across the spectrum in relation to business continuity: insurers; brokers; advisers; practitioners; business. The combination has created a practical yet robust approach to BCM for SME businesses. The book provides an excellent summary of the current position and valuable, practical guidance to businesses and the insurance community concerning BCM for the SME sector.
This 74 page book provides invaluable insight and guidance for all. It is accompanied by an online BCM assessment framework to help you assess BCM within a company. This is accessible only to buyers of the book.
Please be advised:
The Insurance Institute of London and those individuals who give lectures and/or produce papers under its auspices are mindful of the need for such material to be as complete and accurate as the occasion requires and permits. However, such material is not represented to be a full and authoritative statement of the law or practice relating to any of the issues covered and no liability for any error or omission or for any opinion expressed will be accepted by the speaker or writer, their employer or the Institute.
If you are a contributing author to this publication, to obtain a more advantageous discount, please contact Susan Phillip - susan.phillip@cii.co.uk
Postage & packing fee - incremental charges apply
| | 1 to 5 reports | 6 to 10 reports | 11 to 15 reports |
| --- | --- | --- | --- |
| United Kingdom | £ 7.50 | £ 15.00 | £ 22.50 |
| Europe | £ 15.50 | £ 31.00 | £ 62.00 |
| Outside Europe | £ 25.00 | £ 50.00 | £ 100.00 |