Alternative Dispute Resolution in Practice (January 2011)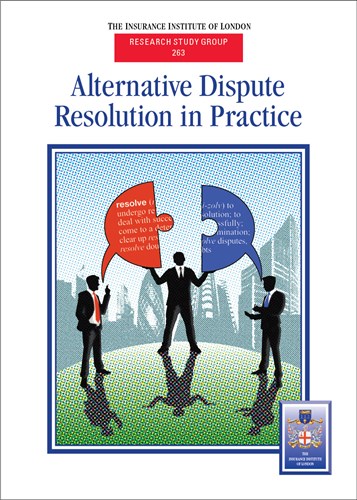 Insurers and reinsurers are among the largest users of the court system in virtually every jurisdiction across the globe as well as major users of arbitration. Whilst these processes are and remain effective tools for the resolution of insurance and reinsurance disputes, the industry has become well acquainted with the costs, delays, uncertainty and damage to relationships that can arise in both litigation and arbitration. In parallel with that the industry has also become one of the largest users of Alternative Dispute Resolution (ADR) processes including mediation in particular, through which quicker, cheaper, confidential and more constructive ways to resolve conflict may be found.
This 316 page book is a practical guide to the use of ADR in a claims handling context for claims professionals across the insurance and reinsurance industries. ADR concepts and processes are introduced (alongside arbitration and litigation) for those less familiar with them and developed in the text so that even the most seasoned claims professionals will derive benefit from it both in selecting appropriate dispute resolution processes and representing their organisation effectively in mediation. The text has been written by insurance and reinsurance practitioners and lawyers for the industry and seeks to draw on the extensive claims experience of the Research Study Group.
The book takes as its starting point the experience of the London insurance and reinsurance market and the law and procedure of England and Wales. It also discusses ADR practice internationally and will be of interest and practical utility to underwriters, claims handlers and in-house lawyers at insurers and reinsurers wherever they may be located.
Topics covered include:
An introduction to ADR processes, an explanation of and comparison with litigation/arbitration and the role of ADR in insurance and reinsurance disputes;

A detailed explanation of the mediation process, including the practicalities of convening a mediation and the advantages of the process;

The legal and procedural framework for mediation in England and Wales, including summaries of relevant case law;

The role of the claims handler in mediation, and a step by step guide to being a more effective participant;

Enhancing the use of ADR within the claims function of an insurer or reinsurer;

The use of ADR in reinsurance disputes;

ADR Clauses, Mediation Agreements, and drafting considerations.
Please be advised:
The Insurance Institute of London and those individuals who give lectures and/or produce papers under its auspices are mindful of the need for such material to be as complete and accurate as the occasion requires and permits. However, such material is not represented to be a full and authoritative statement of the law or practice relating to any of the issues covered and no liability for any error or omission or for any opinion expressed will be accepted by the speaker or writer, their employer or the Institute.
If you are a contributing author to this publication, to obtain a more advantageous discount, please contact Susan Phillip - susan.phillip@cii.co.uk
Postage & packing fee - incremental charges apply
| | 1 to 5 reports | 6 to 10 reports | 11 to 15 reports |
| --- | --- | --- | --- |
| United Kingdom | £ 7.50 | £ 15.00 | £ 22.50 |
| Europe | £ 15.50 | £ 31.00 | £ 62.00 |
| Outside Europe | £ 25.00 | £ 50.00 | £ 100.00 |