Tue 10 Mar. 2020
Insurance Charities Awareness Week 2020 - A lifeline for CII members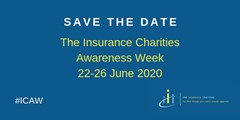 This year's Insurance Charities Awareness Week (ICAW) is taking place between 22 - 26 June.
The aim is to let the industry know about the Charity, and the support available in times of need. People are often surprised that it doesn't just help those working in insurance, but also dependent relatives. It knows that when misfortune strikes, whatever it is, it can affect the whole family.
If your employer has signed up, you'll hopefully spot the Charity's giveaways in your office during the week. You can sign up for free giveaways here if you weren't involved in 2019.
You can follow the week on Twitter and LinkedIn using #ICAW and run activities to coincide with the week such as a bake sale or dress-down day.
Other ways you can support The Insurance Charities
Think about a colleague or someone in your professional network that may need support and share the charity's details with them
Sign up to receive their quarterly newsletter via the sign-up box at the bottom of their homepage
From just £15 a year you can support them by becoming a member and help them to help others
If you have any questions you can call 020 7606 3763 or email marketing@theinsurancecharities.org.uk
www.theinsurancecharities.org.uk